* AGB Club Information
---
* AGB Club Members
---
* AGB Award program
---
* AGB Contest program
---
* AGB Ratings
---
* AGB-Bulletins
* AGB-AWARD-PROGRAM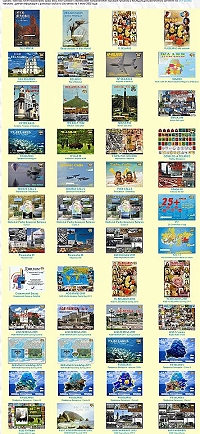 * .. about AGB-AWARDs
Many thanks for nice Awards of AGB club and good wishes. Quite often I look on your WEB-site. I glad that you had also electronic versions of Awards. Recently it in a big fashion. With the best regards, Evgeny. UX1CW


Thanks for the award, all received, unpacked. Hangs in a place of honor. Yours faithfully Mansur UA4PDJ, Kazan, Russia


Igor Vladimirovich! Many thanks for such abundance of information!! Everything I will attentively look through and whenever possible to carry out and to take part. I wish you creative successes and everything, all the kindest! Yours faithfully Mikhail RA3VFF.


Good afternoon, Igor EU1EU!! The award, AGB-WARD-2012 received many thanks for No. 43. Very beautiful as well as all other awards in the AGB program thank you that you it sent the award to me. I familiarized with it and in process of possibilities. I will try to execute some awards. With sincere respect for you Vyacheslav RX1AB 73 !


Thank You for lovely awards, see You soon with new applications, 73 de Boki, YT6M

I am surprised your imagination in awards, it is visible wide experience both vital, and radio amateur, and simply taste of the founder! Good luck to you and Health! Yours faithfully, Vasily UA9WOB, 73!

On beauty of execution your diplomas have no competitors! Successes in all undertakings! Alexander, Olga, YL-RS-01, YL-RS-02


---
We need your support!
---
Expeditions and Trips
Of the Club "Activity Group of Belarus"
EV5AGB, EV21AGB
Polar Expedition "Polar Ring XXI Century"
| | |
| --- | --- |
| | Combine together the main routes of the pioneers of the Arctic, walk along the edge of the Arctic Ocean along the entire Arctic coast of Russia, cross the Bering Strait through the ice, continue along the shores of Alaska, the islands of the Canadian archipelago, the ice sheet of Greenland, and then through the North Pole of the planet to come to the Northern Earth and finish off the coast of Russia. |
This task was set by the participants and organizers of the Belarusian national expedition "POLAR RING - 21 Century", which already grows into an international one.
Expedition equipped with equipment and cross-country vehicles manufactured in Belarus, organized by the Belarusian fund for the support of extreme expeditions "Polyus" with the participation of the club "AGB", support of radio amateurs of Russia and Belarus.
Designed for three years, the expedition "Polar Ring" opens a new era in the development of the Arctic Ocean and the conquest of the North Pole of the planet.
The first stage of the expedition, runs from Salekhard (Yamal-Nenets nats.okr.) To Cape Schmidt (Chukotka-Anadyr). The duration of the stage is about 9000 kilometers. The expedition will pass through the Yamalo-neeneykomu (R9K /) Taimyr (R0B /) nat. districts, Yakutia (R0Q /), Chukotka (R0K /). The planned time of arrival at Cape Schmidt is the second half of May 2001. Used by callsign EV21AGB (AGB # 125).
The Belarusian Fund "Polyus" is a public non-profit organization. The Polyus Foundation does not aim to make geographical and scientific discoveries, conduct experiments on human survival in extreme conditions.
Show unlimited human capabilities in the choice of tools and methods when conquering hard-to-reach areas of the planet, first of all, North and South Poles - this is the main goal that poses the Belarusian Foundation "Polyus". The creation of the fund is closely related to the history of creation and production of all-terrain vehicles on pneumatics ultra-low pressure, which became a new era in mastering hard-to-reach areas of the planet.
The Drabo team began to form around 7 years ago, and today it is a mini-family, with their own values.
| | |
| --- | --- |
| | Commander - Vladimir DRABO (AGB # 123) - organizer and leader of the "Polar Ring". 48 years old, higher technical education, master of sports, member of the Belarusian Geographical Society, President of the Belarusian Foundation for the Support of Extreme Expeditions "Polyus". He was a deputy. leader of the Antarctic expedition to the South Pole in 2000. He is married and has two children. |
| | |
| --- | --- |
| | Yuri Sudak (AGB # 124). 47 years old, higher technical education, chief manager of "Polyus". Two children. We hear Yura every traffic - Monday, Wednesday and Friday. |
On February 1th, 2001, when the final work on sending equipment and equipment from Minsk, the callsign appeared on the air EV21AGB expedition. The work was carried out from Minsk, and in those days, the main burden on radio amateur communication fell on Vladimir EU1CQ (AGB # 20) and Igor EU1EU (AGB # 001).
The expedition left Labytnangi on February 19, 2001, 23.2 - early March - Ob Bay, 23.2 - Yar-Sale, New Port, 26.2 - Cape Kamenny, 6.3 - Dixon, 15.3 - Cape Chelyuskin, 20.3 - Begichiv Island, 21.3 - in the morning cape Nordvik, in the evening the polar station of Anabar station, 22.3 - Anabara, 23.3 - to the mouth of Olenek (R0Q), (presumably to 25.3 - Tiksii) further in April through Yakutia. In more detail about the stages of passage please see
http://www.qsl.net/eu1eu/EV21AGB_rus1.txt
Support groups are being organized in Russia. During the transition, the working time on the air is limited and preliminary amounts to three to four hours a week.
Thanks to the expedition, we will have a unique opportunity to see the unique landscapes of the Arctic space. During the expedition, a film is shot, which will be mounted after the first stage - this summer. The film will be on tapes and CDs. (EU1CQ applications)
By the end of the summer will be printed diplomas & quot; POLAR RING & quot; and & quot; AGB-XXI century & quot ;, QSL.
There are prizes for the most active radio amateurs (who will have connections with all regions expedition) and support groups. Prizes will be made of crystal and ceramics.
QSL via EU1CQ (Кадол Владимир, Логойский тракт 4 кв 22, Минск, 220113, Беларусь)
In detail about the stages of the expedition it is possible to learn at the round tables of the AGB club - each one is 14188 2045 MSK and 3688 2130 MSK
The traffic of the expedition is Monday, Wednesday and Friday, 14120 at 0500-0600 UT. It is also possible to work on 14188 during the time between traffic.
| | |
| --- | --- |
| | It is planned to update weekly data on the AGB club page about the expedition http://www.qsl.net/eu1eu |
There is a Belarusian national site about the expedition http://www.pole.by but it is long loaded ... be patient. Here the most complete are photographs and publications in periodicals. Also here you will find information on other expeditions of the Fund "Polyus".
Historical fact! Belarus, for example, has its own the Northern Pathfinder. Sent to Siberia, for his participation in the Kalinouski uprising, our compatriot Dmitry Pavlotsky discovered the world of Alaska.
Nature is still harsh and ruthless towards those who invade its holy of holies. And therefore, as in the old days, everything will be solved by courage, firmness of spirit and, of course, physical endurance of expedition members (Vladimir DRABO)
.
Igor Getmann EU1EU
(AGB#001 President of AGB club - Activity Group of Belarus)
Eu1eu@mail.ru
---
Information of AGB-AGI TROPHY-Program
Awards and Trophies of "5/9 BAND DXMAN", include four classes:
1. SILVER ( Confirmed 50 Countries )
2. GOLD ( Confirmed 100 Countries )
3. PLATINUM ( Confirmed 250 Countries )
4. DIAMOND ( Confirmed 330 Countries )
---
Information about AGB-TROPHY-Program
Parts of AGB-TROPHY-Program.
I recommend to you to familiarize with our Trophies who are divided into four groups:
1= For Contesters. ( "W-..-C" - Worked in .. Contests )
2= For fans of DXing. ( "C-..-C" - Confirmed .. Countries )
3= For Award & Trophy Hunters. ( "H-..-A" - Have .. Awards )
4= of ... BELARUS...
AGB-Trophy "C-300-C" ... "C-1500-C"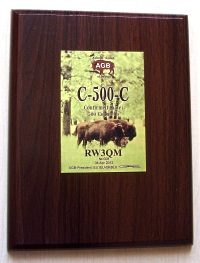 Trophy C-500-C most popular in series C..C last year.
A series of trophies "C-300-C" ... "C-1500-C" awarded for total of the confirmed countries under list DXCC on bands 160, 80, 40, 30, 20, 17, 15, 12, 10 metters. Trophies stand out for, accordingly, 300, 500, 750, 1000 and 1500 confirmed DXCC countries. Rules AGB-TROPHY PROGRAM: C-300-C, C-500-C, C-750-C, C-1000-C, C-1500-C


* .. about AGB-TROPHY
Good afternoon Igor! Today received Trophy "C-1500-C"! Real super is executed! Thank you very much! 73! Shamill RU9WW


Dobroe utro dorogoi Igor, have a lot of thanks for the trophies. On the homepage of Rosel we show to the visitors the trophy ( www.dl3kwr.de rubric contests => http://www.dl3kwr.de/Contest-e.htm ). Also in QRZ.com ( http://www.qrz.com/db/ ) DL3KWR is uploaded the trophy.
Hardy and Rosel DL3KWR DL3KWF

AGB-Trophy "H-100-A" ... "H-1000-A"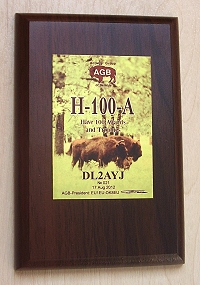 Trophy H-100-A most popular in series H..A last year.
A series of trophies "H-100-A" ... "H-1000-A" awarded for total of the diplomas received by you, trophies, medals and prizes (as and for contests). Trophies stand out for, accordingly, 100, 300, 500, 750 and 1000 Dimlomas (awards, trophies include contest-awards-sertificates). Rules AGB-TROPHY PROGRAM: H-100-A, H-300-A, H-500-A, H-750-A, H-1000-A

* .. about AGB-TROPHY
I welcome Igor! Today received from you С-750-С. Thank you very much. Perfectly executed trophy, high quality! It was packed very well, no scratches are present. Again Thanks! I rejoiced! Now I select next Trophy from your program. The photo of the received trophy I sent to friends, and I think nice reaction from them will be soon. See you again! 73! Vladimir RD3AD

Hi Igor, TROPHY received, everything received perfectly. Alexander RK6JS


Good afternoon, Igor! Today I received PX-BELARUS-Trophy. I thank you for it. It is pleasantly surprised that I have Trophy with number 2. Everything is remarkable. Once again many thanks.
regards, Igor UA9OGF

AGB-Троффи "W-100-C" ... "W-1000-C"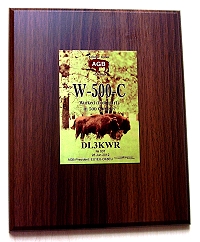 Trophy W-500-C most popular in series Contesting last year.
A series of trophies "W-100-C" ... "W-1000-C" awarded for total of competitions in which you took part (the personal call sign, as SWL or from club radio station). Trophies stand out for, accordingly, 100, 250, 500, 750 and 1000 Contests. Rules AGB-TROPHY PROGRAM: W-100-C, W-250-C, W-500-C, W-750-C, W-1000-C